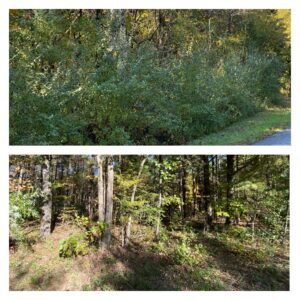 Friends of the Shawnee National Forest and partners are holding their third annual Non-native Invasive Species (NNIS) autumn olive removal events starting Tuesday, November 7. Autumn olive is an aggressive invasive species that has infested Garden of the Gods for close to half a mile along the road to the Observation Trail and hundreds of feet deep in some areas.
The NNIS removal is scheduled for Tuesdays Nov 7,14 and 28 from 10 a.m.-2 p.m., and Saturday, December 2 from 10 a.m.–2 p.m. Volunteers should wear long pants, a long-sleeved shirt and sturdy shoes. Safety glasses, gloves, helmets, and other tools will be provided, but volunteers are welcome to bring their own personal protection equipment.
lease bring water and a snack. Volunteers will also receive a free long-sleeve orange "Volunteer and Steward of the Shawnee" T-shirt.
This project and these events are being held in cooperation with the Friends of the Shawnee National Forest, the USDA Shawnee National Forest, University of Illinois Extension, and the Nature Conservancy of Illinois.
Register at go.illinois.edu/NNISR2023Shawnee.