Friends of the
Shawnee National Forest
Supporting and Preserving the Shawnee National Forest
Friends of the Shawnee National Forest relies on its active board members who help shape the organization and proceed with activities that will make it and the National Forest better for everyone. Without our dedicated board members, our organization would not be able to perform at its best for the users of the Shawnee National Forest. Now is your chance to meet the member of the Friends of the Shawnee National Forest board.
Tom Sadowski, Chair of the Board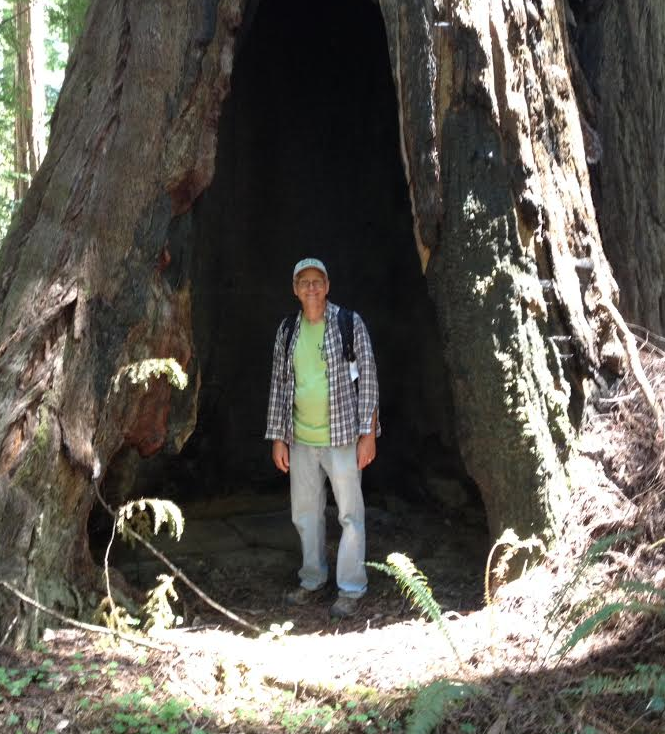 At a very young age, Tom Sadowski, became aware of the beauty the natural world has to offer. He was fortunate enough to have parents who took family vacations that were nature centric. His academic endeavors pursued a passionate respect of nature. He completed a Bachelor's Degree in Ecology and a Masters Degree in Botany. This later degree was completed under the tutelage of a renowned taxonomist who introduced hundreds of students to the gems of Southern Illinois. Many were found in the Shawnee National Forest.
Unable to find a career that afforded the luxury of being in nature while earning a living he pursued a career as a Forensic Scientist which provided the opportunity to put his academic training of the scientific method and reasoning to use. During his tenure as a Forensic Scientist, free time was spent experiencing the restorative powers that nature provides. As a retired person, he plans to spend even more time in nature with his wife, Shari, and to become a steward of nature.
Steve Melville, Board Member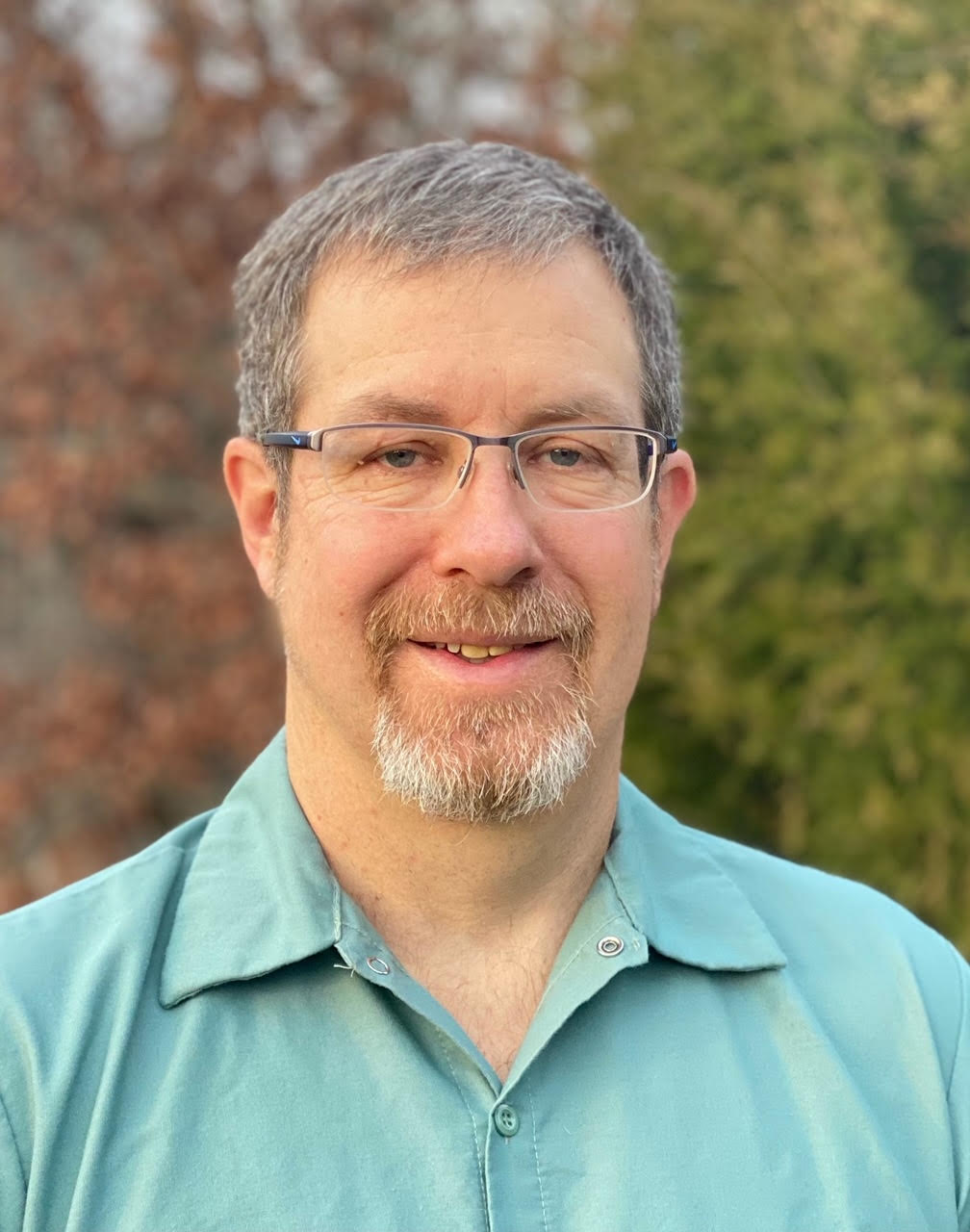 Steve Melville (and his wife Tara) own and operate Rim Rocks Dogwood Cabins in the Eastern Shawnee. Steve is passionate about his civic duty of taking care of the Shawnee and has organized trash clean ups and trail maintenance work in the area while also promoting economic growth of the area through tourism with his work on several committee's including being a board member of Southernmost Illinois Tourism.
Steve was born and raised in Saint Louis and has always been an outdoor enthusiast and avid traveler.
 Having visited most of the parks in the Midwest and many National Parks (with a goal to visit them all), he fully understands how amazing it is to call the Shawnee National Forest home. Steve has two teenage daughters; Loren and Katie who both share his passion for the outdoors.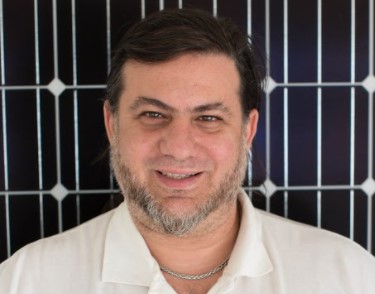 Aur 'da energy mon' Beck is an energy efficiency advocate and is triple NABCEP Certified with his company, Advanced Energy Solutions (www.AESsolar.com ) installing solar since 1999. He is a founder and on the board of the Illinois Renewable Energy Association (www.illinoisrenew.org ).
 He has a weekly radio talk show, "Your Community Spirit," (www.YourCommunitySpirit.org ) but he would like to be known mostly for Oil Addicts Anonymous International (a real 12 step program), www.IamanOilAddict.org. For fun he cooks, dances salsa and volunteers with Rotary.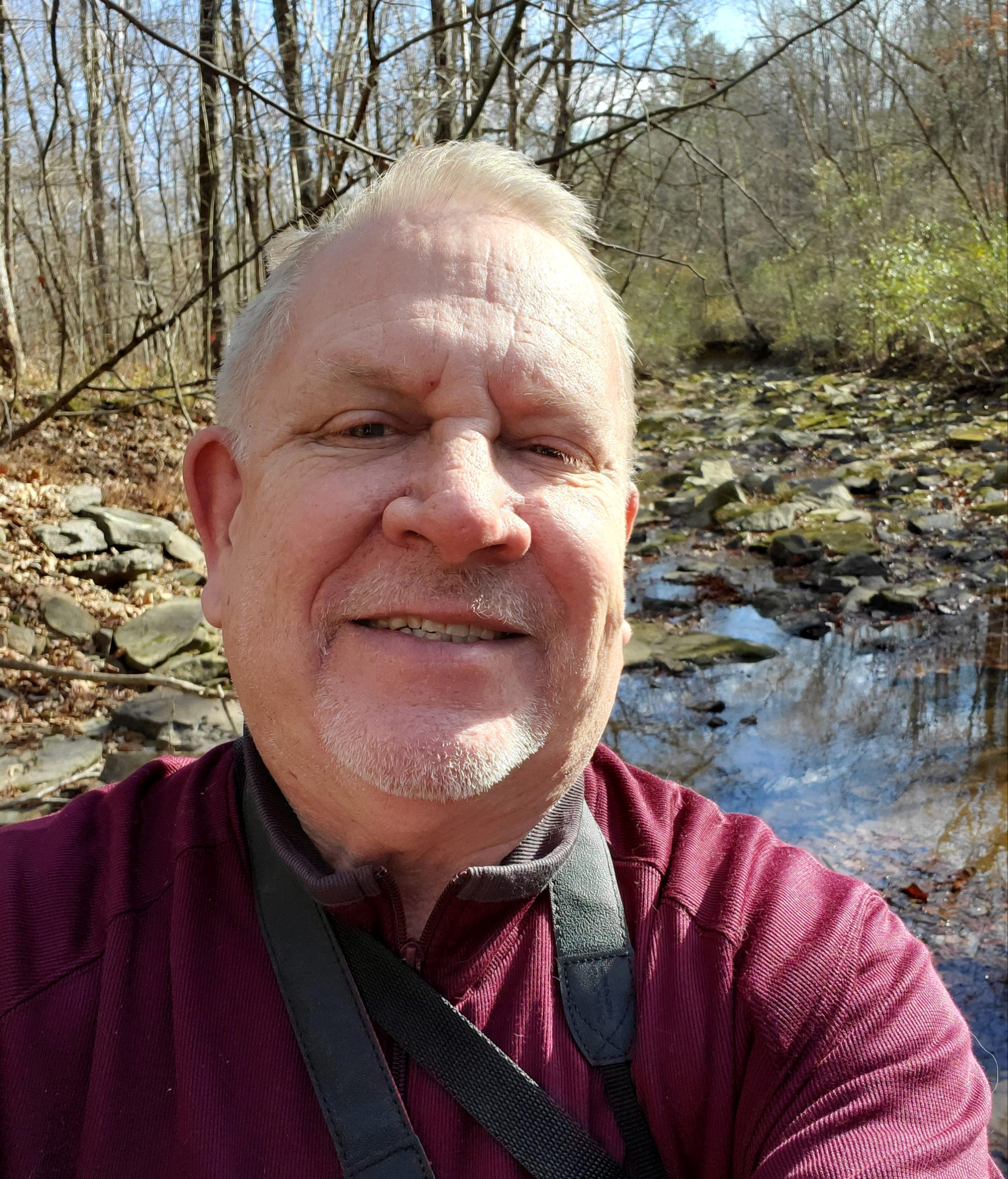 Pat moved to Southern Illinois in 1998 from Texas.  He earned a Master of Arts in Mass Communication and Media at Southern Illinois University in 2004.  In 2014, he became the marketing and publicity coordinator at SIU's Touch of Nature Environmental Center. Pat has a passion for the Shawnee National Forest and the great outdoors.  An avid hiker and photographer, among some of his favorite places in the Shawnee are Garden of the Gods, Kincaid Lake, Little Grand Canyon and Snake Road.
Shawn Gossman, Board Member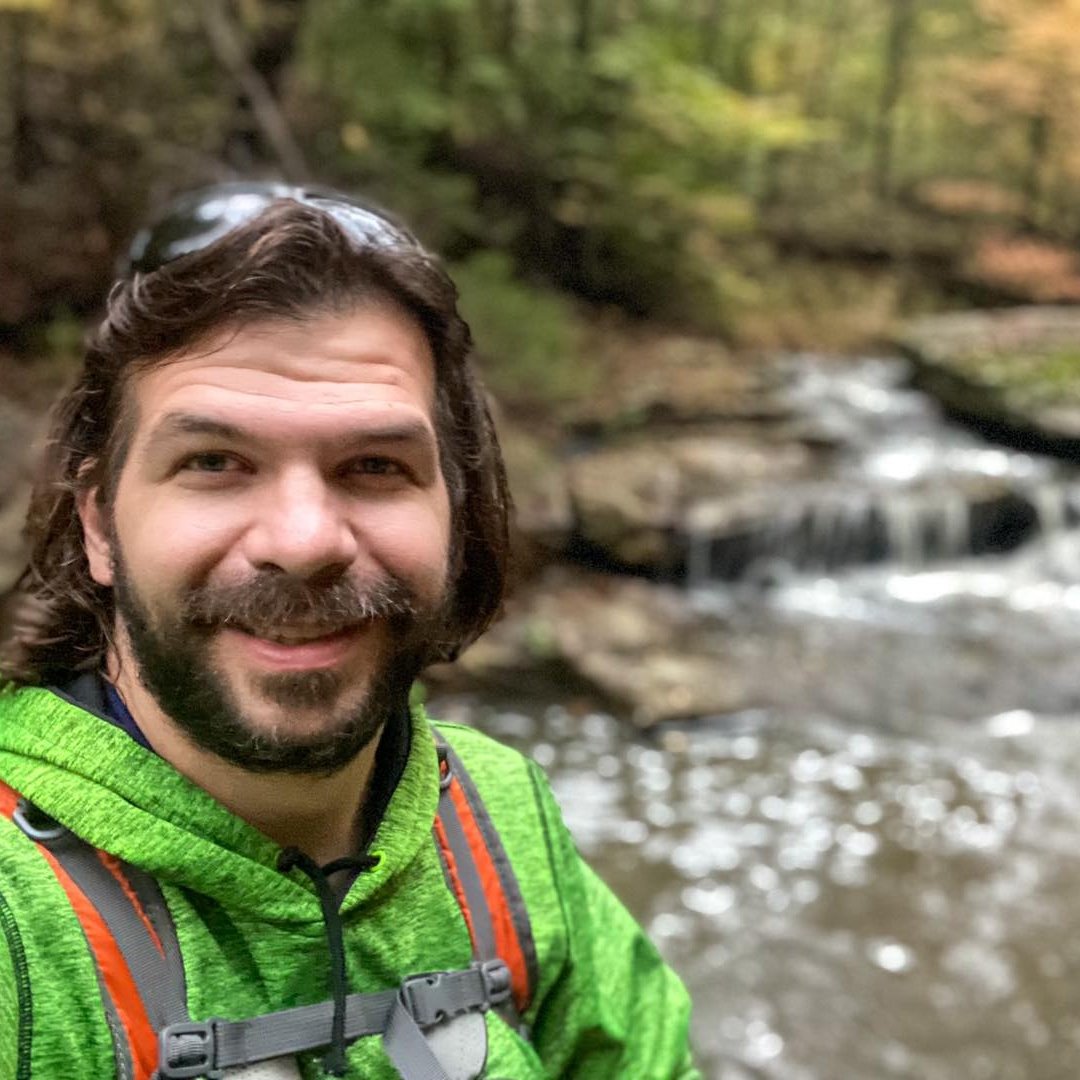 Shawn Gossman is better known as Hiking with Shawn which is a YouTube and social media persona that he created when he started filming and shooting photography around his hiking, biking and outdoor adventures in and around the Shawnee National Forest. Shawn is an advocate of tourism and conservancy gripping onto the Natural Resources in southern Illinois is what can save southern Illinois. Shawn joined the Friends because he believes in making the Shawnee National Forest better for everyone who wants to enjoy it.
Shawn is also a board member of the River to River Trail Society and Friends of the Cache River Watershed. Shawn was born and raised in southern Illinois and currently lives in the country around the Pope-Massac county border. Shawn is a double master degree holder with an MBA and a Master of Emergency Management & Public Health. Shawn is a QA specialist for a medium voltage cable manufacturing company.
Leslie Ewell, Board Member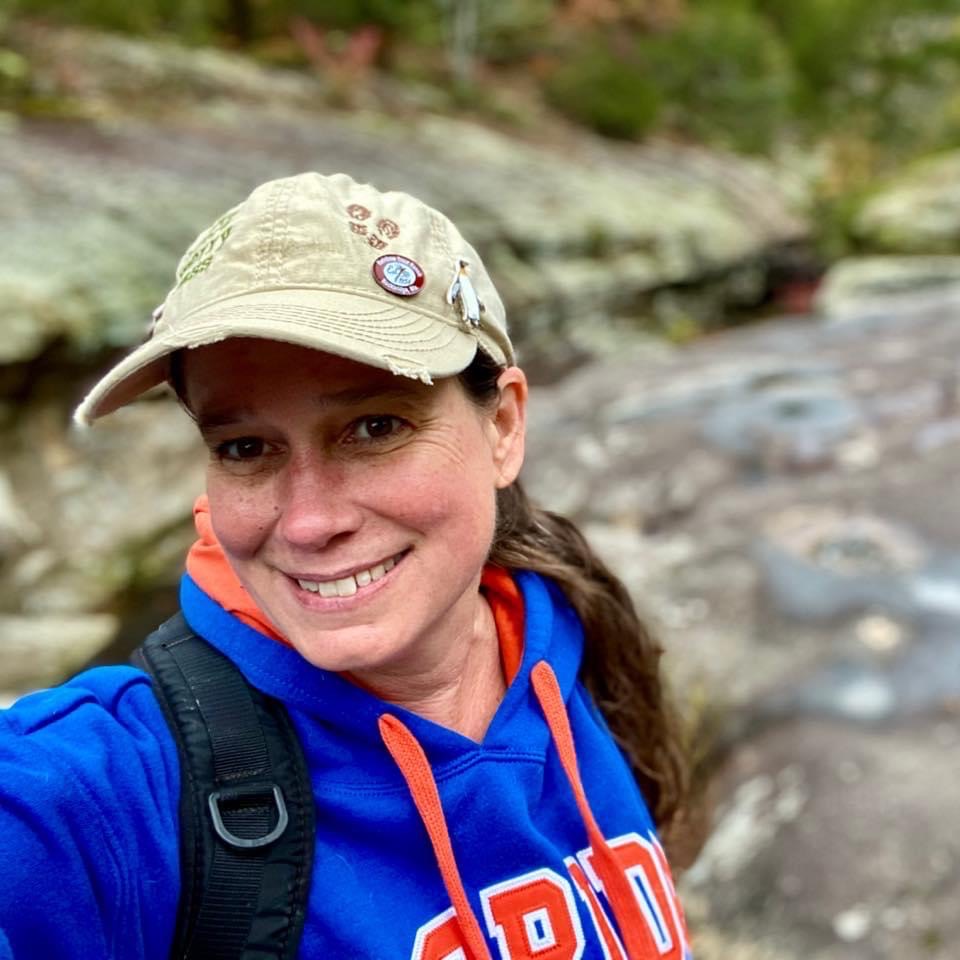 Being a native of Southern Illinois and an Alumna of Southern Illinois University
Carbondale, I have spent countless hours, days, and even nights in the Shawnee National
Forest. My mother is a steward of the USFS and has always inspired and motivated me to follow
in her footsteps.
The past 25 years I lived in Jacksonville, FL where I was a volunteer and employee for
the Girl Scouts, all the while raising a family. My passion for marathon running (13 full marathon
finishes and over 50 halfs) led me to be a trainer for the local Galloway Marathon Group.
Now that I am officially back in the heart of Southern Illinois I have embraced my love,
enthusiasm, and respect for the outdoors and The Shawnee National Forest. Being a talented
artist and holding a Bachelor of Fine Arts Degree in Photography, you will likely spot me in the
forest capturing images through my eye or sitting with a sketch book capturing the raw beauty of
the forest. I love and thrive in the lesser known areas and the "off the beaten path" areas of the
Shawnee. I'm excited to share my love, appreciation, and stewardship of the gem we have right
in our backyard.
Tara Melville, Board Member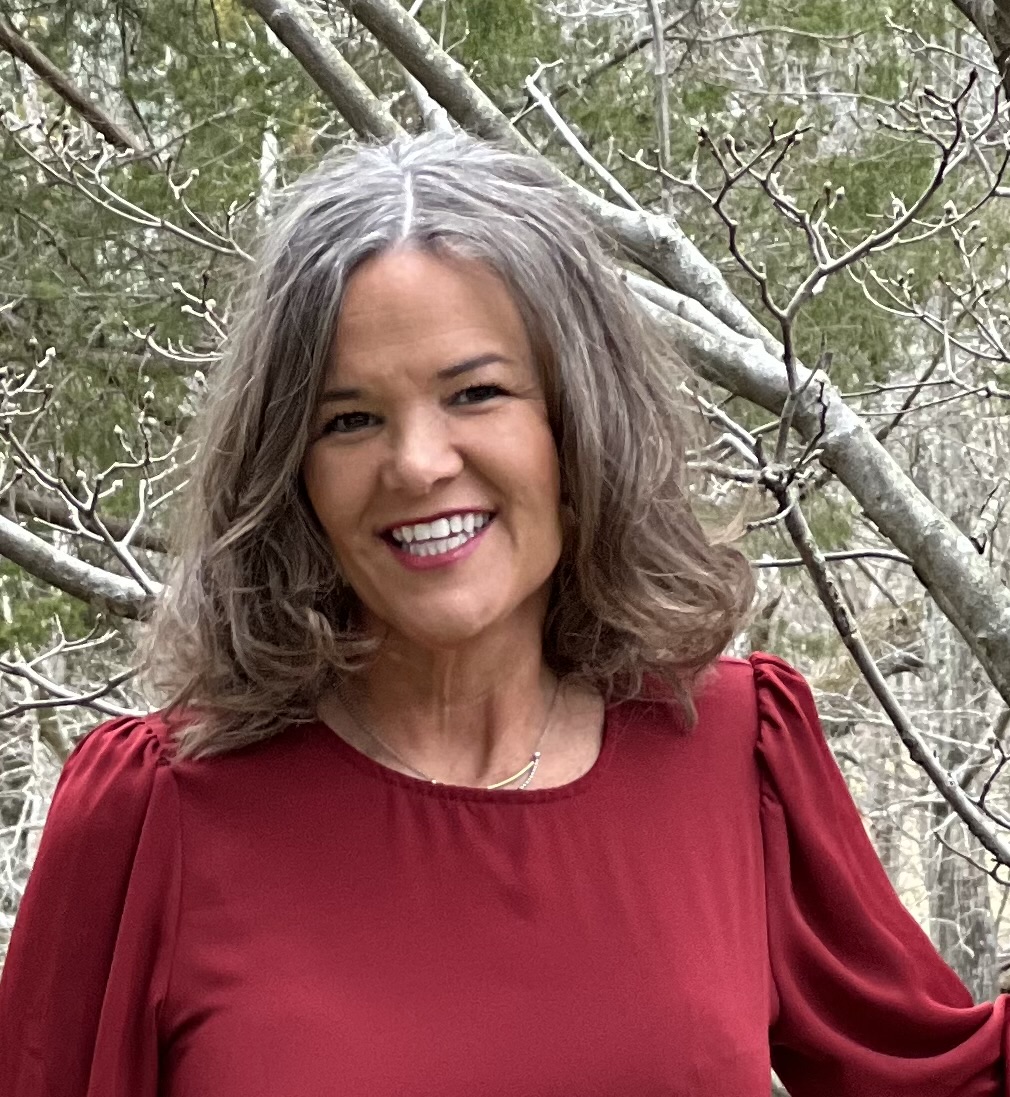 Tara Melville current owner of MedVice Consulting and owner/operator with her husband Steve Melville
of Rim Rocks Dogwood Cabins. She works remote as the Risk Director for a healthcare system in the
Mid-Atlantic Region. Tara brings her familiarly with interpreting statutes and performance improvement
initiatives to the team.
She grew up in Piedmont, MO where the After graduating she attended Southeast Missouri State
University where she obtained her Bachelor of Nursing. She developed a love of nature and the
outdoors with her son, Patrick, on a camping road trip to visit ten National Parks. This led to the goal to
visit all National Parks, in which she is 68.3% complete.
Darcy Tripod, Student Board Member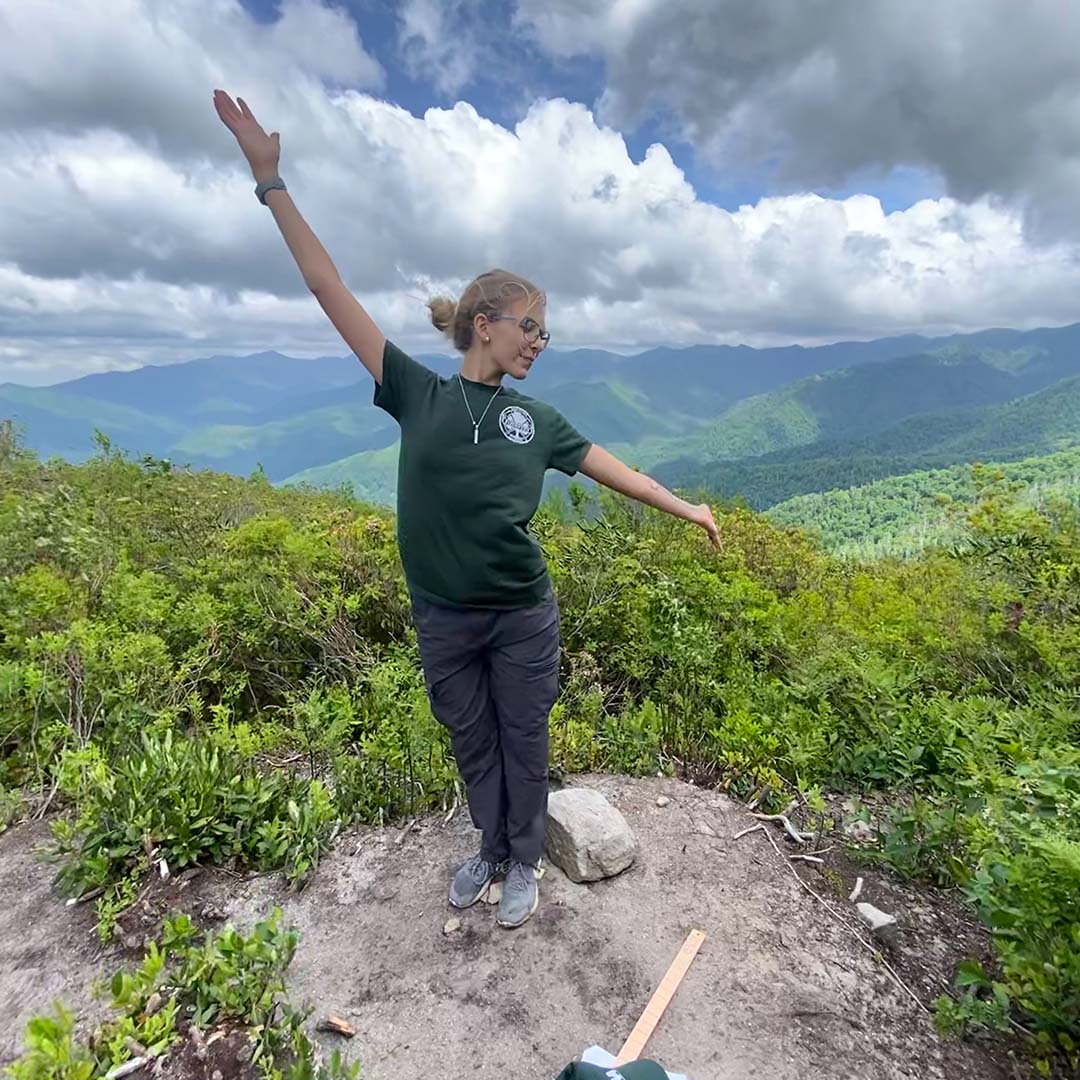 Darcy Tripod is a senior studying Forestry at Southern Illinois University Carbondale with a specialization in forest resource management. At SIU, she's involved with Greek Life organizations Alpha Gamma Delta, the College Panhellenic Association and Society of American Foresters. In her spare time, she enjoys hiking with her fiancé and her dog in the Shawnee National Forest or hanging out at a beach.
Our Mission
Friends of the Shawnee National Forest is a nonprofit organization that supports the Shawnee National Forest by promoting land stewardship, environmental education, and responsible outdoor recreation.
Copyright © 2020 Friends of the Shawnee National Forest. All Rights Reserved. Developed by Hiking with Shawn.