Spring 2021 Newsletter
The Friends of the Shawnee National Forest is a nonprofit organization that supports the Shawnee National Forest by promoting land stewardship, environmental education and responsible outdoor recreation.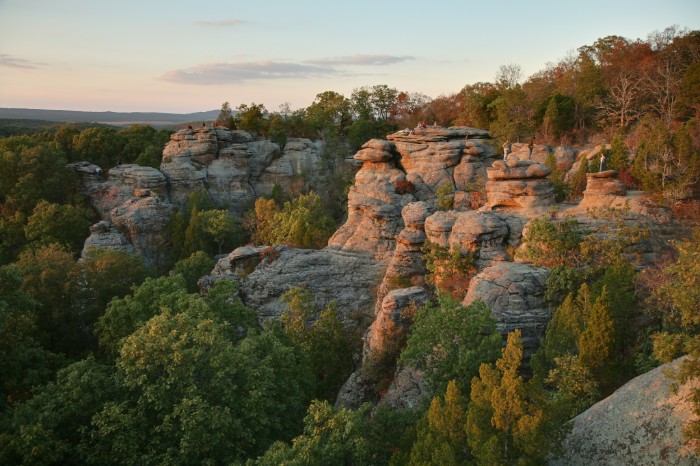 It's the time of year when the Shawnee starts waking up after a long winter. And with a new year, there is a sense of optimism. This issue let's you know what we've been up to and a few things we have planned moving forward. 
A reminder. The Covid-19 pandemic has changed the way we do a lot of things. As we get ready to enjoy more time in this national treasure, please remember social distancing and be respectful of others along the trails, lakes and parks. 
Find out more information about the Shawnee National Forest at https://www.fs.usda.gov/shawnee.
The Friends Board welcomes Chad Deaton
representing the USFS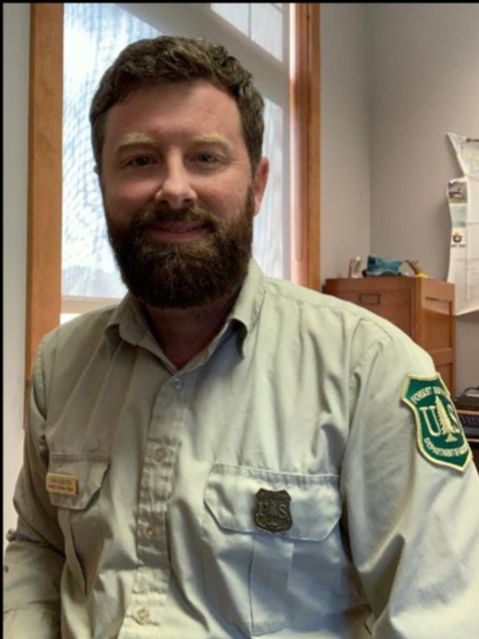 Chad Deaton has worked in the Shawnee National Forest for nearly 20 years in a variety of positions. A Southern Illinois native, Chad's natural resource education began at Southeastern Illinois College where he graduated in 2002 with an Associates in Forestry Technology. He continued at Southern Illinois University earning a BS in Zoology in 2008.  After SIU, he became the District Wildlife Biologist on the Mississippi Bluffs Ranger District in Jonesboro. Chad entered the Recreation Manager started working as the District Recreation Program Manager in 2016, and now is the Forest Program Manager of the Shawnee National Forest. Chad and the Friends of the Shawnee look forward to working in partnership and accomplishing great things.
Winter trash blasts and trail stewardship help
 restore the health of the Shawnee
Local University of Illinois Extension Program Coordinator, Kim Rohling, and Friends of the Shawnee National Forest Board Chair, Tom Sadowski, worked with volunteers Brynn Freed and Clint Stevens to collect 635 pounds of trash at Ripple Hollow in the Shawnee National Forest on April 2.  Ripple Hollow is a popular hiking and equestrian trail. Volunteers hauled 9 bags of trash, 18 tires, a roll of carpet, and a shell of a bathtub out of the forest!  This event was supported by a partnership with the United States Department of Agriculture, The US Forest Service; Friends of the Shawnee; and University of Illinois Extension.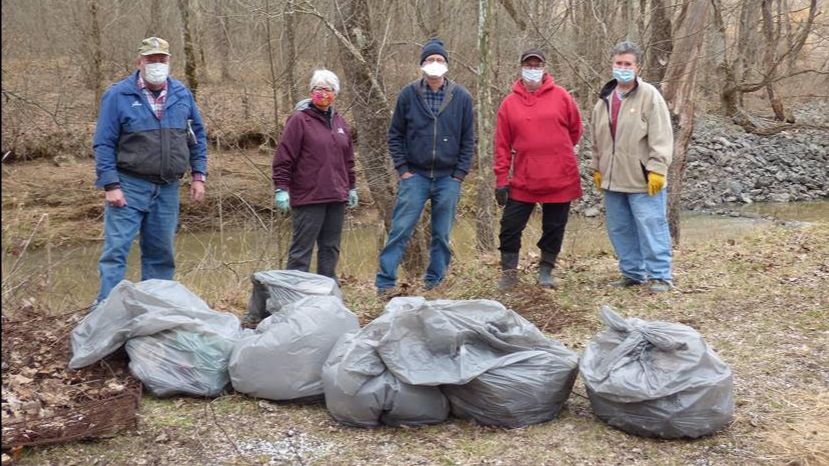 Illinois Master Gardeners Buster George, Georgia George, Patricia Powell and Beckie Wisdom worked with  Extension Program Coordinator Kim Rohling and Friends Board Chair Tom Sadowski to collect trash at Dutchman Lake in the Shawnee National Forest on March 5 from 1-3 p.m. Together they removed 240 pounds of trash and covered approximately 3.72 acres.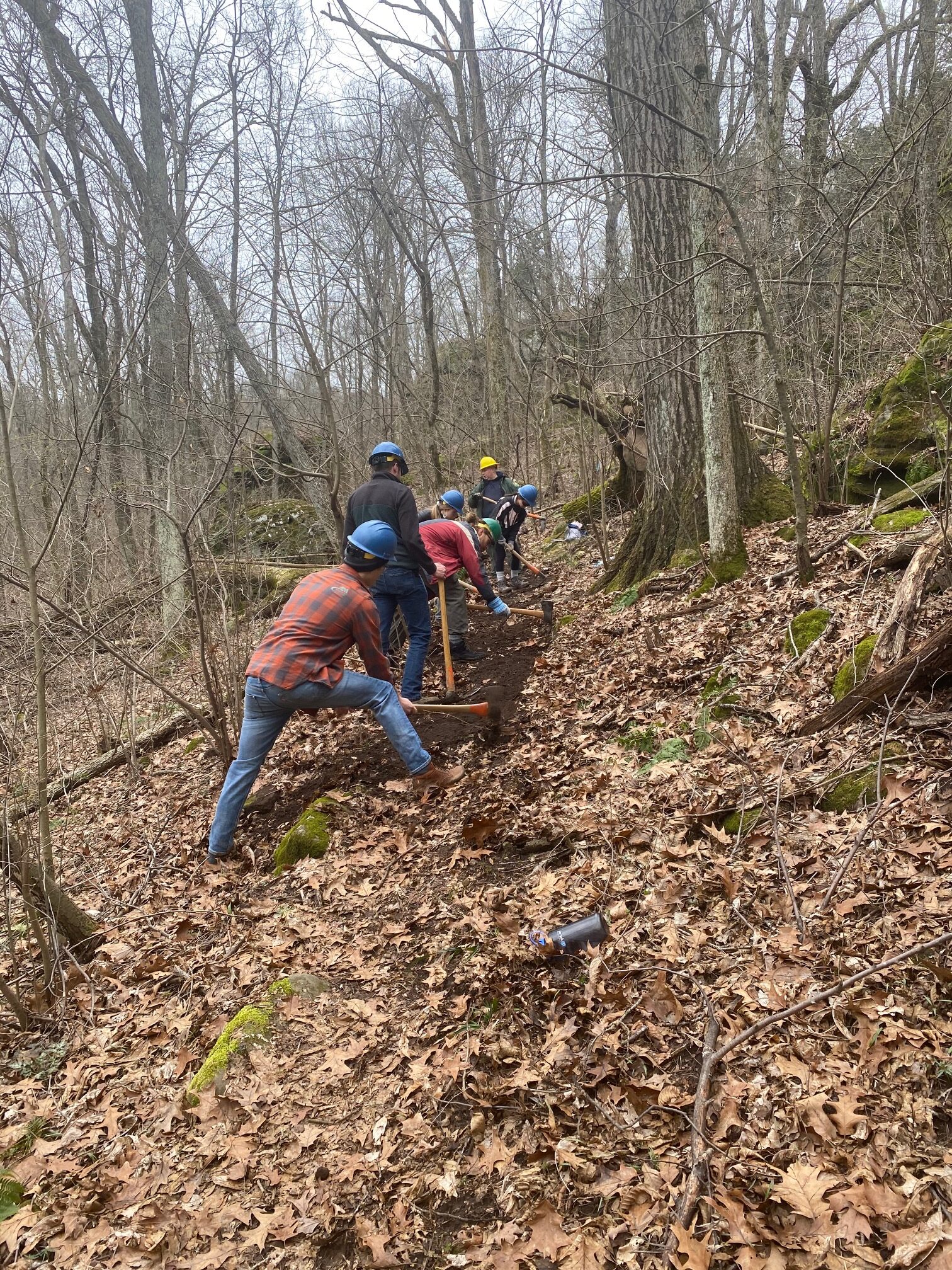 Ten members of the Champaign, Illinois "Outdoor Adventure Club" came down for a full day of work at High Knob, March 13. Jackson and Jay of the Shawnee National Forest led the club, along with Friends of the Shawnee National Forest Board member Steve Melville, clearing trees and rocks off the trail, installing and/or clearing out water bars and steps to stop water erosion, brushed back the trail and picked up litter. Rim Rock's Dogwood Cabins hosted the group free of charge in exchange for the work.
Jackson did an amazing job of leading the effort and teaching the group the "how and why" of trail maintenance while getting a lot of work done. Huge thank you to the Outdoor Adventure club for all their hard work.
---
Sunday, March 21, three SIU students (Jacob, Mae and Tony) joined Friends Board member Steve Melville for a trash blast at Pounds Hollow Lake. The group spent three hours picking up lots of trash; a couple of tires and some old fencing out of the beach area, parking lot area, the trail over to Rim Rock and around the entrance. A couple of the oldest things found were a 1950's Busch beer can and a one pint Pepsi bottle. Also found were a couple of footballs, a softball, hats, sunglasses, diapers and lots of cans, bottles, cups and plastic bags.
Please leave no trace when visiting the Shawnee (or any public land) and kudos to everyone that leave it better than they found it 
If you know of a lodging facility that would like to participate in the Friends of the Shawnee off-season volunteer program next year or you know a group looking to do some volunteer work, please contact friendsoftheshawnee@gmail.com.
If you are an individual that would like to do some volunteer work and/or would like to become a member of Friends of the Shawnee, please contact us at friendoftheshawnee@gmail.com or visit our website shawneefriends.org.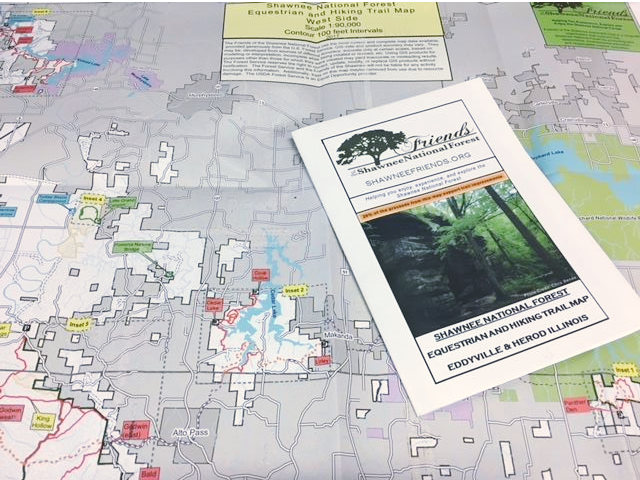 East and West Side Trail Maps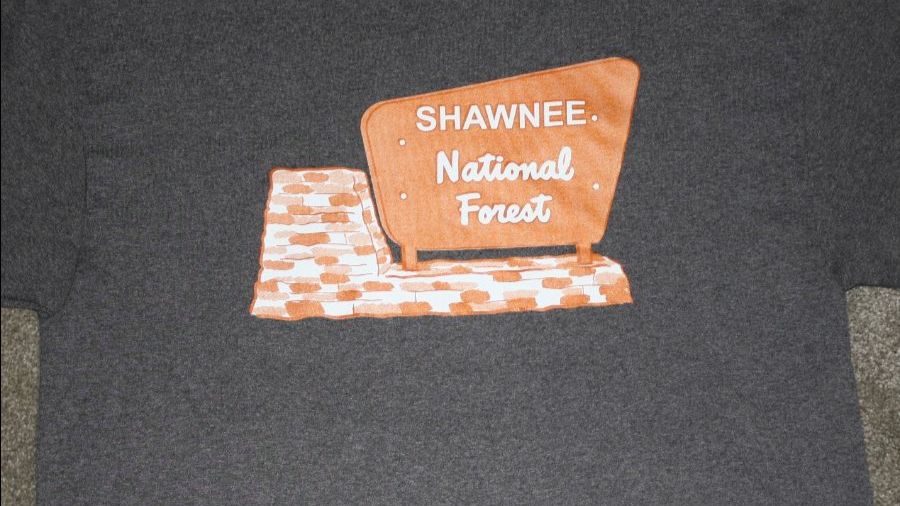 T-shirt with logo on front showing standard Forest Sign for Shawnee National Forest. Available in S, M, L / Green and Gray.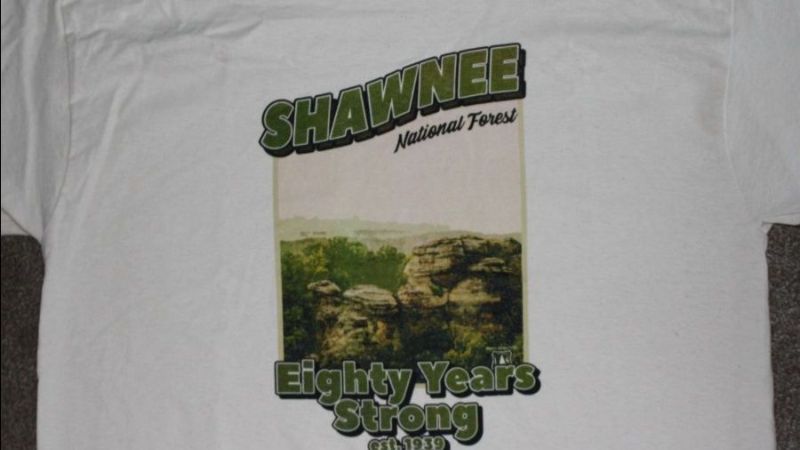 Shawnee National Forest 80th Anniversary T-Shirt. Available in S, M, L, XL & XXL.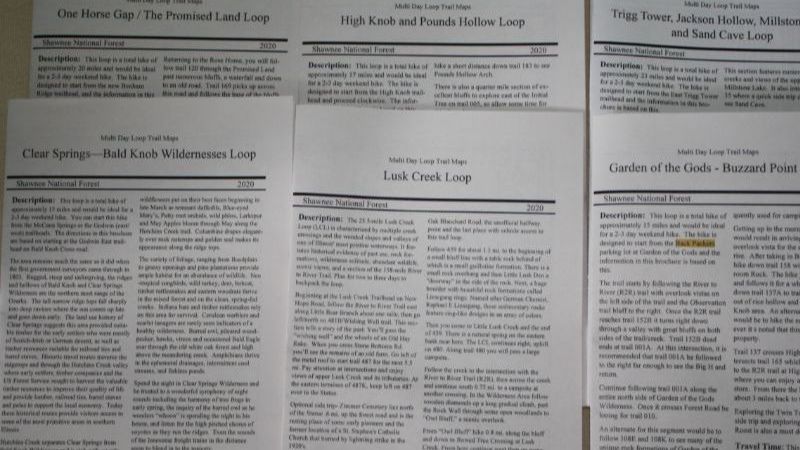 A six map bundle for multi-day hiking trips around the Shawnee National Forest in loop trails. Locations include One Horse Gap, High Knob, Trigg Tower, Garden of the Gods, Lusk Creek and Clear Springs Wilderness. 6 maps in one bundle – waterproof.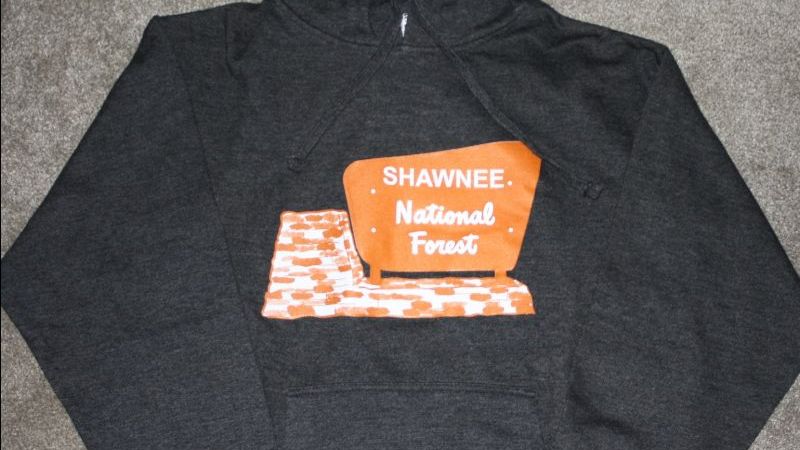 Become a Friends of the Shawnee National Forest Member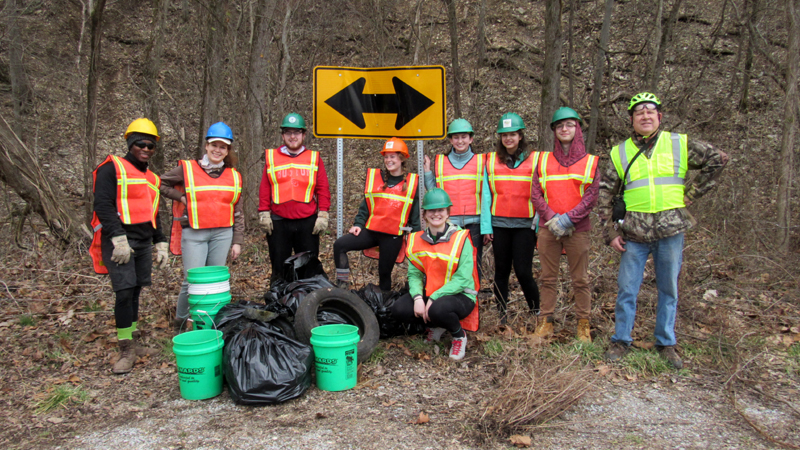 The Friends work with the U.S. Forest Service, Southern Illinois Communities, and a host of partners to help people explore, experience, and enjoy the Shawnee National Forest.
We strive to promote volunteerism, support stewardship projects, connect people to the land, strengthen relationships, and build a legacy of the Shawnee National Forest for future generations. Help support our mission. 
Give what you can.  All levels of membership are eligible for tax deduction.  Visit our website at https://friends-of-the-shawnee.square.site/. 
Thanks very much for your support.