2022 Winter Newsletter
The Friends of the Shawnee National Forest is a nonprofit organization that supports the Shawnee National Forest by promoting land stewardship, environmental education and responsible outdoor recreation.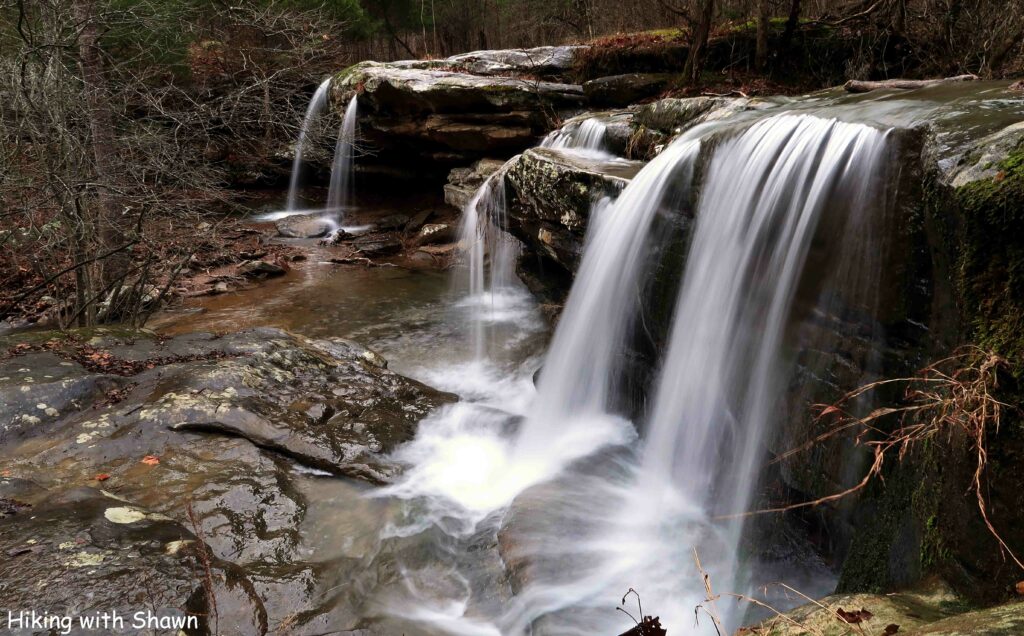 The Shawnee National Forest can be magical any time of the year but the transition to winter can be especially dramatic. Get out and enjoy it, but be careful. Watch for warnings and closures. Bring your camera. We'd love to see your photos on our Facebook page. 
Please, follow all safety guidelines and stay on the trail. Plan ahead. Get a map. 
In this newsletter, we want to tell you about some of the things we've accomplished in 2021, share a few things we want to accomplish in the new year, and also salute a USFS superstar who's moving on. 
Thank you, Kelly Pearson for your years of service
Kelly in the blue helmet left, working with AmeriCorps NCCC volunteers on some early trail building at SIU's Touch of Nature in 2018.
Kelly's passion for volunteerism began in the summer of 1975 as a sophomore at Anna-Jonesboro High School when she was selected as an enrollee in the Youth Conservation Corps at what was then called the Jonesboro Ranger Station.  There she became hooked on working hard, getting dirty, and eventually the United States Forest Service.
She returned the following year as a YCC Youth Leader at Jonesboro where she began honing her leadership skills. That same summer, she was selected to attend the YCC as a Youth Leader in the residential program at the Kaskaskia Experimental Station at the Elizabethtown Ranger District. Among some of the projects she and her fellow campers were involved with was the flagstone walk at Rim Rock. After attending Shawnee Community College, she served as a crew leader for the Young Adult Conservation Corps at the Jonesboro Ranger Station.
In 1993, Kelly was offered her dream job at the USFS as a Recreation Technician.  Since then, and over many USFS reorganizations, she was able to continue honing her leadership skills and helped develop the Shawnee Volunteer Corps, and later as Wilderness Technician and Volunteer Coordinator.
Since then, it's safe to say she has hosted thousands of volunteers and has appreciated how the people she's met along the way develop their own connection to the natural world.
Congratulations, Kelly.  You have influenced many organizations and individuals. Friends of the Shawnee National Forest is truly appreciative of your guidance.
We hope you got out and enjoyed the Shawnee National Forest in 2021. Thanks to you, we've had a busy year.  Some of our most notable projects and collaborations include:
Collaborating with the USFS on a trails assessment of designated Wilderness areas and installation of 13 new information bulletin boards at 11 sites in the Shawnee.
Celebrating National Public Lands Day with trash blasts at Pounds Hollow,  Garden of the Gods, and trash and graffiti removal at Cove Hollow.
Partnering with Illinois Extension and volunteers to remove 1738 lbs. of trash at Dutchman Lake, Ripple Hollow, Lake Glendale, and Grantsburg Swamp.
Removing over5 5000 invasive autumn olive trees along the drive to Garden of the Gods.
We're looking for new challenges to help improve the experience for visitors in the Shawnee National Forest. Here's a few projects we have in store for 2022:
Stair stacking and trail maintenance involving crosscut sawing at Rim Rock
Graffiti removal at Golden Circle
Trail maintenance at Cove Hollow
More invasive species removal
and so much more.
The Friends of the Shawnee National Forest works with the US Forest Service and others to keep the Shawnee beautiful.
We could use your help. Consider becoming a volunteer. Email us at volunteer@shawneefriends.org
This is where we live
Consider becoming a new Member of the Friends of the Shawnee National Forest or renew your membership.

All members receive:
Our quarterly e-newsletter.
Emails inviting them to stewardship events such as trash blasts and trail building.
The satisfaction of knowing they are supporting the Friends' mission in promoting land stewardship, environmental education, and responsible outdoor recreation in the Shawnee National Forest.
Membership Levels
Sapling – $25
Redbud – $40
New Redbud Members receive a T-shirt.
Dogwood – $75
New Dogwood Members receive a T-shirt and their choice of east side or west side trail maps of the Shawnee.
Elm – $100
New Elm Members receive a T-shirt, their choice of east side or west side trail maps and annual recognition in our e-newsletter.Visit https://www.joinit.org/o/friends-of-the-shawnee-national-forest
or send to:
Friends of the Shawnee National Forest
P.O. Box 612 Carbondale, IL 62903
As a 501(c)3 non-profit organization, membership and donations are tax deductible.
Thank you to these Members with annual contributions of $100 or more
Kelly Flynn                                       Pat York
Tyler Clott                                        David W. Flenner
Charles Holmes III                         Richard Harden
Robin Russell                                  Debra Dell
Joe Lenzini                                       Jonathan Capp
Sean Collins Stapleton                   Joshua Welling
Kristi Annegers                               Troy Smith
Sean Collins-Stapleton                  Sharon Chancey
Dr. Nathan A. Schaumleffel         Jonathan Voelz
Bernard Derroite
Visit our online store for maps, T-shirts and more.
Shop on Amazon/smile and support the Friends of the Shawnee